In the past month, many cryptocurrencies experienced upward price changes. One of them was the Tron network's native token, TRX.
According to data from leading crypto price aggregator CoinMarketCap, TRX's price jumped by 13.6% in the last 30 days.
TRX outperforms bitcoin and ethereum
According to CoinMarketCap, TRX was trading at about $0.06073 on Jan. 25. In the intervening time, it has managed to stay above that level and even reached a high of $0.07249 on Feb. 20, a 19.36% hike from the Jan. 25 price.
The coin is currently priced at $0.06902, a 13.6% rise over the past month.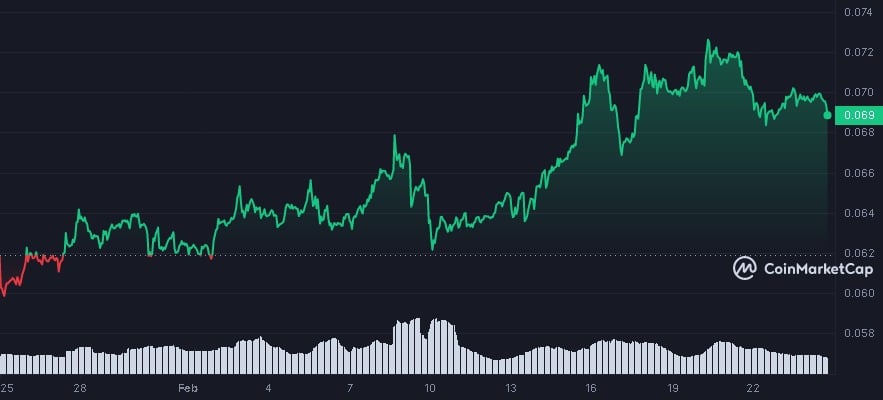 Several tokens, including some of the top coins, have displayed signs of correction throughout the last few days.
CoinMarketCap shows that bitcoin (BTC) and ethereum (ETH) have lost the last day's gains and weekly advances. The total market value of all cryptos has also decreased throughout this time.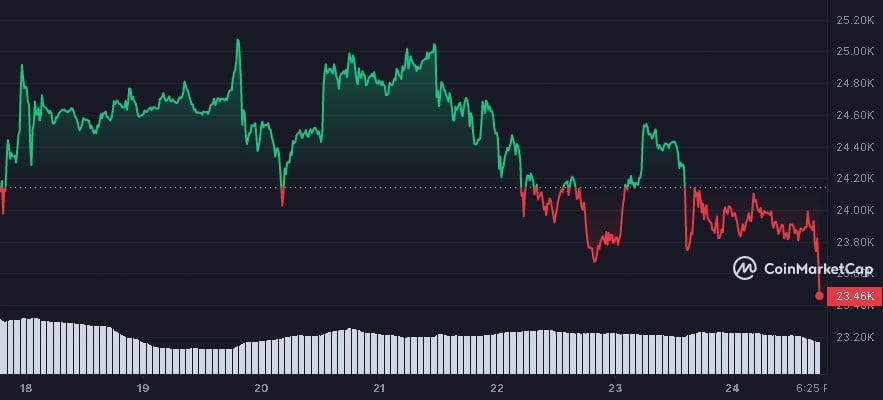 However, TRX has maintained its positive run. The coin increased by 2.94% during the past seven days, exceeding BTC and ETH.
Factors influencing Tron's market performance
The prices of cryptocurrencies are frequently influenced by demand, supply, network development, market sentiment, and macroeconomic factors.
According to CoinStats' Fear and Greed Index, TRON's current market sentiment is 53, placing it firmly in the greed category.
Additionally, the Tron network is working on new projects to bolster its community and demonstrate its creators' vibrancy.
On Feb. 20, the day TRX hit its highest level of the last 30 days, Tron released a report on significant network changes.
One of the highlights was the rapid surge in burned TRX tokens, topping 15 billion. Consequently, many suggested the price of TRX could experience considerable deflationary pressure.
For the past few weeks, there has been an increase in burning activity on Tron. TronScan data show daily token burn rates increased by 60% from the previous month.
The disparity between the number of new tokens created and the number of tokens burned decreased further due to the flat number of new tokens created.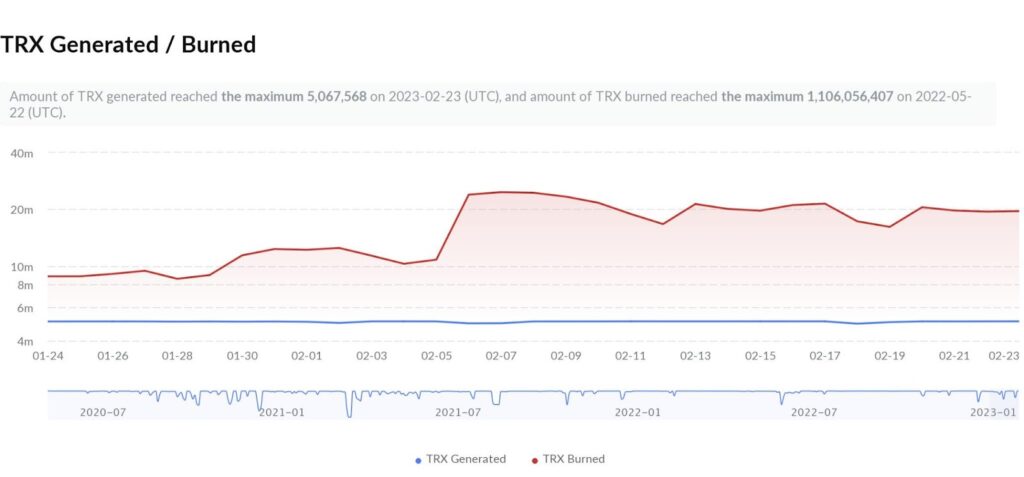 Typically, a coin becomes rare as its issue rate gradually declines, which may increase market demand and drive up prices.
Tron has removed over 600 million TRX tokens from circulation during the past three months, potentially boosting the token's value.
The other significant development was Binance's declaration that it was developing a method to lower withdrawal costs for TRX tokens from its exchange.
Due to these occurrences, the coin's price increased by more than 13% over seven days.
Elsewhere, Tron's co-founder Justin Sun recently unveiled a new payment method to support the rapidly expanding ChatGPT AI tool.
Sun stated that TRON would be very helpful in offering a decentralized payment structure for AI systems.
He added that the new protocol would encompass smart contracts and payment-level systems that would put Tron's BitTorrent, a decentralized file-sharing system, front and center to provide a complete service.
Follow Us on Google News
#Tron #days #crypto #markets #trade #flat