Recent reports by Matrixport suggested that Stacks (STX) — a smart contract procol layer operating on top of bitcoin (BTC) — might well be destined to become a "multibillion dollar token" thanks to its association with new bitcoin-based (BTC) non-fungible token (NFT) protocol Bitcoin Ordinals, but how closely are the two protocols intertwined?
According to Dune analytics data, nearly 178,000 Bitcoin Ordinals have been "incribed" onto the bitcoin blockchain permanently, spending $1.273 million in fees — all of those fees being BTC. This innovation had also the effect of increase the size of bitcoin blocks and already added nearly 3.3 gigabytes to the data that any full node will be forced to download despite only having launched on Jan. 21, 2023.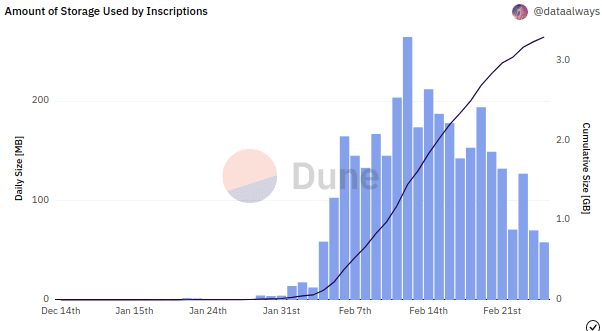 As explained in a recent analysis, Bitcoin Ordinals leverage the discounted — by 75% — blockspace reserved for the Taproot scipts introduced on Nov. 12, 2021 to save short videos, images and other types of content directly on chain and provid an all-in-one decentralized NFT solution. Still, this was not the intended use of this feature with Bitcoin only allowing 80 bytes of transaction space for non financial data in the form of the OP_RETURN entry, while such NFTs can easily take most of a block on their own.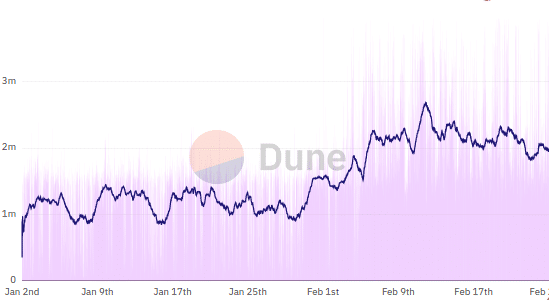 Many feel that Bitcoin Ordinals are a misuse of the bitcoin blockchain that might outcompete some of its financial applications and decrease the network's decentralization by putting additional strain on full nodes. Still, none Bitcoin Ordinals' features leverages anything that is not part of the base protocol: in other words, Stacks is not involved.
Still, Stacks lists a total of 21 NFT-involving decentralized applications (DApps) based on its protocol — among those, only three of those mention the keyword "Ordinals" on their website. Of those three, one is a data platform, another one only mentions Bitcoin Ordinals in a blog post. The third one is Gamma, a service that allows its users to inscribe Bitcoin Ordinals.
A video tutorial published by Gamma two weeks ago shows that it allows users to create a Bitcoin Ordinal featuring an image or text — interestingly only BTC is involved in the transaction. Where Stacks come into the picture is on Gamma's auction page, where Bitcoin Ordinals are listed with prices in STX.
In other words, when it comes to the Ordinals ecosystem Stacks' primary involvement is being means of payment in auctions for those assets and act as an equivalent of the OpenSea NFT marketplace. Still, whether it is enough to result in STX becoming a multibillion dollar token as suggested by Matrixport according to a Coindesk report remains to be seen.
OpenSea supporting already eight blockchains is now likely to add another one to its collection, whether Stacks will become the primary protocol to power Bitcoin Ordinals exchange is still largely unknown given how young the ecosystem still is. OpenSea — the world's top NFT exchange with its eight supported protocols — reached a $13 billion valuation with its C funding round back in early January, 2022.
Follow Us on Google News
#Stacks #price #doubled #Bitcoin #ordinals #hype