Despite flat crypto markets, a few tokens like KEY are finding strong support from buyers.
KEY is on a tear
SelfKey (KEY) is a technology startup in the blockchain space that is dedicated to developing solutions for digital identity management. Its focus is on giving individuals and corporations greater control over their personal data, enabling them to truly own and manage it.
In light of the numerous data breaches that occur on a weekly basis, SelfKey's goal is to revolutionize the way identity transactions are processed and managed using blockchain technology.
By doing so, it hope to create a safer world where people's personal data and privacy is protected. The SelfKey token price today is $0.014145 USD and is up 103.36% in the past 24 hours.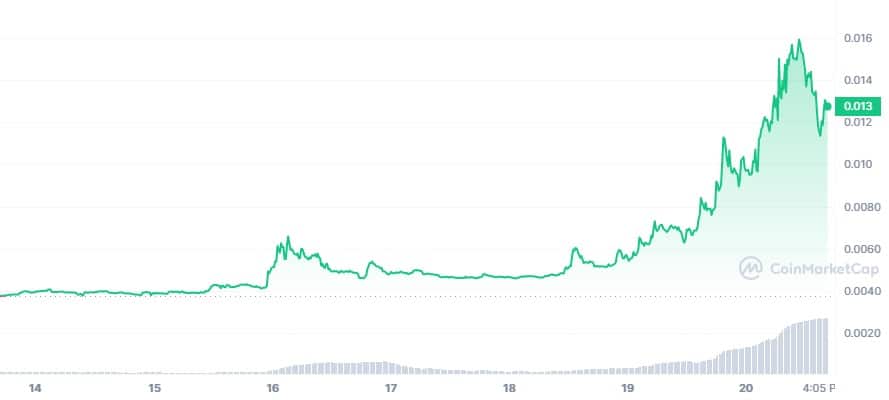 So why is the price of SelfKey going up at a time when many other cryptocurrencies are struggling? One possible reason is that the company's focus on digital identity management has put it in a unique position to benefit from the regulatory crackdown.
As governments around the world crack down on cryptocurrency trading and mining, there is a growing demand for technologies that can help individuals and organizations comply with new regulations.
SelfKey's platform is designed to do just that, providing a secure and decentralized way for people to manage their digital identities while complying with regulatory requirements.
Another factor driving the price of SelfKey up is the company's recent partnerships and collaborations. In the past few months, SelfKey has announced partnerships with a number of companies and organizations, including Polkadot, Chainlink, and KardiaChain.
These partnerships have helped to increase the visibility and credibility of SelfKey, leading to greater interest and demand for its token.
Rocket Pool falls
Rocket Pool is a decentralized ethereum staking pool that offers up to 4.33% APR for ETH2 staking.
Users can join the pool through its decentralized node operator network or run their own nodes with 16 ETH. Those who run their own nodes can earn a commission from staking ETH and additional RPL rewards from providing RPL collateral, totaling up to 6.36% APR.
The pool provides liquid staking and smart nodes with losses from bad nodes shared across the network, minimizing risk. The pool's open-source and audited smart contracts guarantee fully non-custodial staking and maximum decentralization. The Rocket Pool price today is $49.92 USD and is down 6.7% in the past 24 hours.
The chairman of the SEC, Gary Gensler, has expressed concerns about the need for greater regulation of cryptocurrency staking.
Gensler has emphasized the potential risks associated with staking, including the possibility of market manipulation and insider trading. These comments have made many cryptocurrency staking pools, including Rocket Pool, nervous, leading to a decrease in staking activity across the board.
Despite the recent regulatory uncertainty, many in the cryptocurrency community remain optimistic about the long-term prospects of staking. Staking is seen as a way to earn passive income while contributing to the security and decentralization of the cryptocurrency network.
As the regulatory landscape becomes clearer, it is likely that staking activity will pick up once again as well.
Follow Us on Google News
#KEY #flies #higher #flat #crypto #markets #Rocket #Pool #falls