Institutional wallet data shows which assets are being hoarded by major cryptocurrency institutions.
Data provided by CryptoRank shows that major institutions have a clear preference for the USD Coin (USDC) stablecoin, with Tether (USDT) being the only one that is relevant but accounts for a significantly smaller amount of holdings.
Among the ten major crypto institutions considered, only Hashkey held exclusively USDT.
Crypto's death was greatly exaggerated
The other four institutions that held USDT were Falconx, Fibig Capital, Spark and LedgerPrime all also held USDT.
All of those except Ledger Prime held significantly more USDC than USDT. The remaining five institutions — namely Genesis Trading, Bitscale, Dragonfly, CMS and Infinity Ventures Crypto — held no USDT at all. In total, the institutions in question held $177 million of USDC and just over $13 million of USDT.
Another leading asset was ethereum (ETH), with Genesis Trading alone holding 119,000 ETH worth nearly $200 million as of press time, followed by Flaconx's $21.6 million and Hashkey's $3 million worth of ethereum.
Other than the aforementioned stablecoin and ethereum, not much was in common among the wallets of the institutions in question.
Top institution Genesis Trading held Compound (COMP) as its third top asset — following ethereum and USDC — and held well over $7 million worth in its wallets. An asset that appears in multiple institutional wallets is The Graph (GRT), a web 3.0 infrastructure provider whose token is held by both Genesis and Spark.
Another asset that is held by multiple institutions is Lido DAO (LDO) — the token of an ethereum liquid staking solution — held by both Falconx and Bitscale Capital. Another example is decentralized finance protocol DyDx (DYDX) held by Hashkey and CMS.
No other asset plays a major part in more than one of the institution's wallets.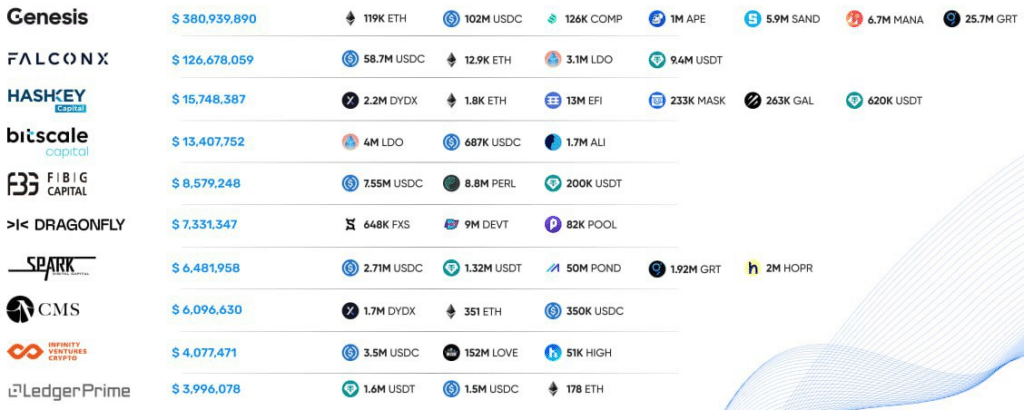 The findings follow a recent analysis explaining how institutional investors are playing an increasingly central role in the cryptocurrency market.
Follow Us on Google News
#assets #keeping #institutions #warm #crypto #winter