A whale has been slowly accumulating ethereum (ETH), on-chain data on Feb. 19 shows.
Whale accumulating ETH
In the last 34 days, the whale, only identified as "0xB79c", has been building up their ETH holding, buying regardless of spot price, from Binance and Coinbase.
On Feb. 19, Etherscan data shows that the address holds 30,034 ETH worth over $50.9m. The latest purchase was earlier today when the whale bought 1,362.15226ETH. In the past four days, the whale has been buying over 1,000 ETH in bulk, increasing his haul.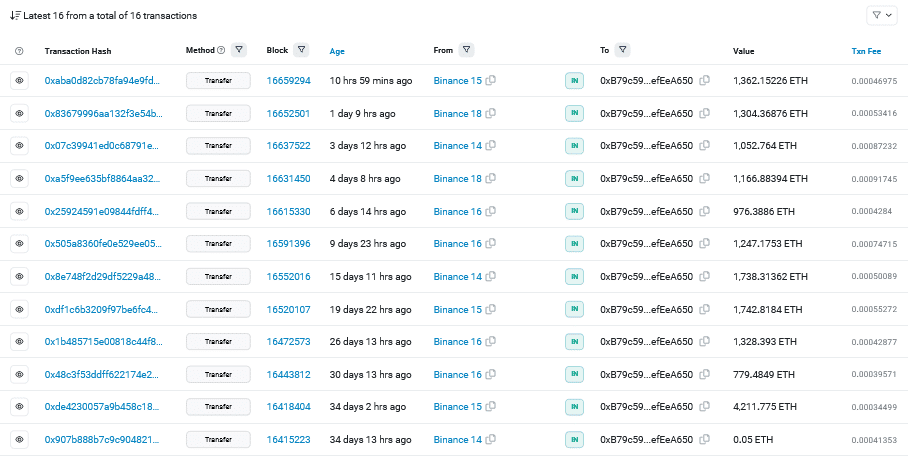 However, it is not immediately clear what motivates the holder or what could be the reason for their steady ETH purchase in the last trading month. 
Ethereum is a leading smart contracting platform and home of DeFi, NFTs, and metaverse. This is judging from the activity of popular dApps launching on its rail. 
Blur and OpenSea, for example, are two of the world's largest NFT marketplaces, facilitating the trading of Ethereum-based NFTs. 
At the same time, Uniswap, a decentralized exchange, tops the list of trustless ramps allowing users to swap tokens without an intermediary. Earlier this month, the Uniswap community voted, approving the DEX to launch on the BNB Smart Chain (BSC). 
Possible price drivers
In the short term, ETH holders expect prices to increase. The activation of the Shanghai Upgrade on Ethereum will see the gradual and systematic unlocking of billions worth of ETH from the Beacon Chain. 
Although this event could see ETH prices contract as some holders opt to exit the market, there could be a chunk that will flow to liquid staking providers like Lido DAO and Rocket Pool, for example. This move, coupled with the fact that 24.9% are solo ETH stakers, means more coins will be taken from circulation, possibly supporting prices.
Ethereum changed its fee auction model through EIP-1559, introducing a base fee and fee-burning model. Over time, hundreds of millions of ETH have been destroyed and won't be recovered.

Activities from Uniswap and OpenSea directly contribute to more coins being burned. In turn, this makes ETH to be gradually deflationary. Over the coming years, proponents believe that ETH will become ultrasound money and a choice store-of-value asset, better than bitcoin (BTC). 
Follow Us on Google News
#Ethereum #whale #continues #accumulate #ahead #Shanghai #Upgrade