The official Playstation account on Twitter shared a new trailer for an upcoming puzzle game titled "Humanity" yesterday, mentioning Shiba Inu. If the video game giant does indeed reference the cryptocurrency SHIB, it would be insanely big news for the SHIB army.
However, upon closer inspection, the reality unfortunately doesn't look like it. While the Playstation Twitter account wrote that users could play as Shiba Inu, there seems to be no affiliation to SHIB.
"Play as a Shiba Inu. Guide crowds through trials. Unlock new powers. Take on massive battles. Build custom stages. PS VR2 support. Upcoming puzzler Humanity just got even more intriguing," the tweet says.
Why Shiba Inu (SHIB) Is Probably Not Involved
A look at the trailer reveals that "Shiba Inu" is most likely referring exclusively to the dog breed that will serve as a character in the new video game. The game's website also provides some background information on this:
Stranded at the end of the world, people have lost their sense of purpose. You awake as a Shiba Inu and join the people in a series of "trials" (stages), attempting to guide them towards pillars of light.
Fittingly, the new trailer features an opening sequence of a Shiba Inu moving through hordes of people in colorful clothing. Thus, even though a Shiba Inu, the dog breed, will be playing a starring character in the game, it can be (almost) ruled out that PlayStation is planning to launch a SHIB-themed game.
Remarkably, PlayStation's mention of Shiba Inu has excited members of the SHIB army. Several SHIB enthusiasts have tagged the cryptocurrency's official Twitter handle and chief developer Shytoshi Kusama.
@ShytoshiKusama 🔥🔥🔥

— Pedro Roldan (@PedroRoldan5) February 23, 2023
However, the fact that the rumor, which was partially spread in the SHIB community, is very far-fetched and has little credibility can also be seen in the SHIB price, which has hardly reacted to it at all. Within the last 24 hours, SHIB has fallen by 1.7%. In the last hour before the editorial deadline, the price has also increased by only 0.1%.
Nevertheless, Ethereum whales are currently showing extremely high interest in SHIB. As crypto tracker WhaleStats reports, SHIB continues to be the favored altcoin among Ethereum whales.
Among the 5,000 richest ETH whales, SHIB is the largest accumulated holding behind the stablecoins USDC and USDT. Taking all the whales' holdings together, USDC makes 18%, USDT 13% and SHIB 12%. This is followed by MATIC with just 4% and other altcoins like BIT, LINK and Best with 3%.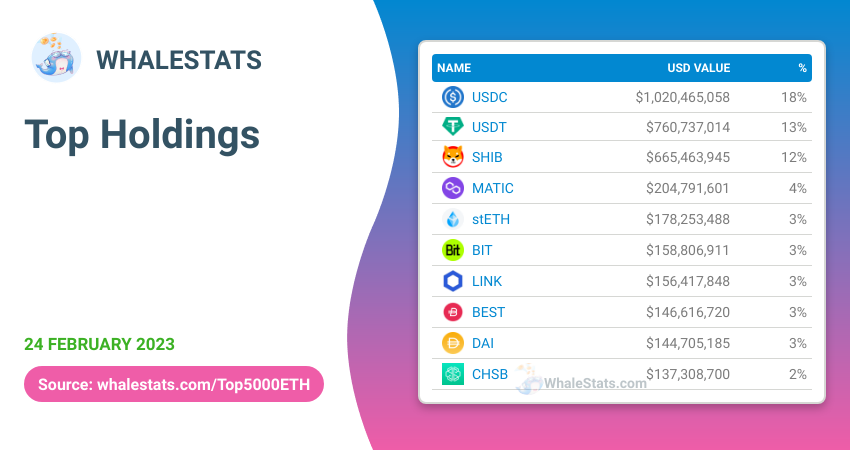 At press time, SHIB traded at $0.00001315, remaining in its range between $0.00001214 and $0.00001382.
Featured image from Traxer / Unsplash, Chart from TradingView.com

#Playstation #Endorse #Shiba #Inu #Game