Coinbase's layer 2 blockchain launch has caused quite a stir in the crypto industry, with BASE tokens experiencing an incredible surge of over 250% in just 24 hours, following the announcement.
The BASE token's price rose from $1.90 to over $6.80, with trading volumes surging from $46,000 daily to over $566,000 at the price peak. At the time of writing, trading volume had surged further to over $1.1 million.
BASE founders claim that it is a representation of the entire crypto-sphere
Despite its small market capitalization of just $1 million, the token's creators say that it represents the entire crypto industry.
Its creators claim it allows traders to speculate on the crypto industry with just one token.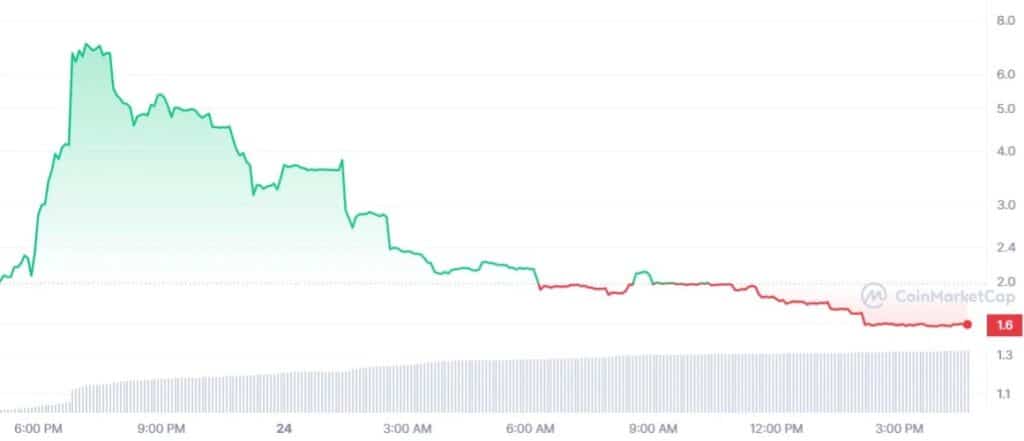 However, the narrative of the BASE token has yet to catch on with most crypto investors. 
According to Token Sniffer, a smart contract scam scanner and crypto surveillance firm, four malicious impersonation tokens have been created since Coinbase's testnet launch on BuildOnBase, exploiting the hype surrounding the layer 2 network.
All the scam tokens are called BASE and are created with Ethereum and Fantom chains.
The company warned investors about these fraudulent tokens, pointing out that impersonation scammers often use the branding of well-known companies that don't have their tokens to defraud unsuspecting investors.
In contrast, honeypot scammers program their tokens' smart contracts to dissuade buyers from reselling them. Token Sniffer recommended that investors verify the authenticity of the token before investing.
Moreover, Coinbase's launch of its Base blockchain has not been smooth sailing so far, with users expressing dissatisfaction with the network's performance and overall functionality on Twitter following the testnet rollout on Feb 23, 2023.
After reaching the all-time high of $7.98 in March 2022, BASE token prices corrected amid heavy profit taking, dropping overnight to trade just over $2 in Asian morning hours on Feb 24, 2023.
Despite BASE's claims to represent the entire crypto industry, crypto enthusiasts have yet to adopt the narrative of the token widely.
While Coinbase's layer 2 blockchain launch caused the BASE tokens to surge and decline within 24 hours, it remains to be seen how the token will perform in the future, especially with the creation of malicious impersonation tokens and the dissatisfaction among users with the Base blockchain network's functionality.
Follow Us on Google News
#Coinbase #blockchain #sends #BASE