Ever since the anticipation around the barium launch, the massive burns, and the unending Elon tweets on Doge, meme-coins have made several headlines for the better part of 2023.
Today, as meme-coins continue to make headlines, babydoge announced that it had crossed the 1.7 million holders mark.
This development however comes when the meme coin is not on its best days. As of the time of writing, babydoge had seen a drop of over 7% from its previous 24-hour price.
Despite the bad chart performance, the news might have impacted its trading volume, which has seen a 15% increase to $17,919,191 despite the market cap recording a decrease of over 7%.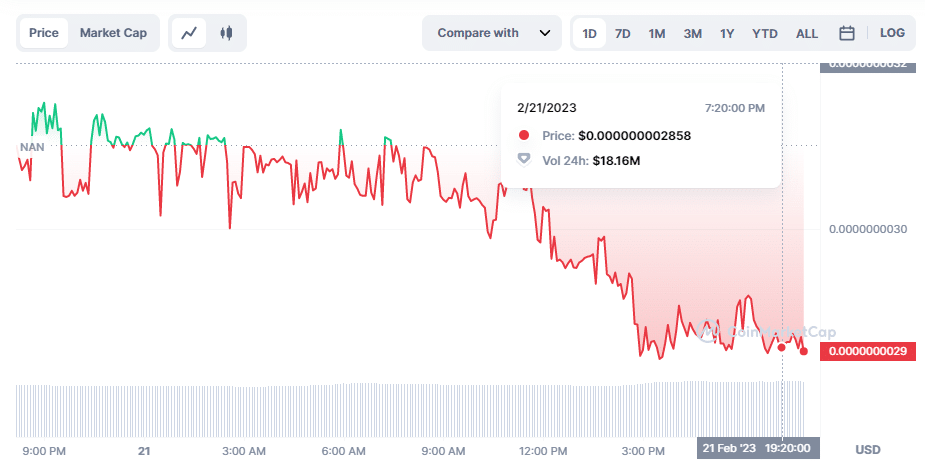 Babydoge's burn portal causes excitement all round
Early in February, babydoge began advertising the launch and highlighted three primary benefits of the burning process. First, on Feb. 12, approximately 24,5 trillion babydoge tokens totaling $86,766 were destroyed, out of a total supply of 420 quadrillions of tokens.
The team said launching the crypto asset's burn portal would "put burn power in the hands of the community." They also stated that burning will "offer users lesser buy costs to acquire BABYDOGE."
The decrease in the total coin supply has the potential to positively affect the price of the token, which brings us to the third and last significant benefit of using the burn gateway.
Even though it was not listed on the market, the meme currency became popular on Binance on Feb. 13.
Also, it was placed second in the list of the day's most famous subjects, which encouraged the community to gather votes to persuade Binance CEO Changpeng Zhao (CZ) to include babydoge in the list of currencies that are open for trading.
What do experts say about babydoge?
A variety of analysts have dissected the future of babydoge's pricing. Unfortunately, there are different opinions. Experts' wide-ranging price forecasts may be traced back to sharing other procedures, calculations, tools, or inputs.
It is projected by DigitalCoinPrice that the babydoge price will hit $0.00000000637 in 2022 and then surge to $0.00000000747 in 2024. The projection also includes projections for $0.0000000103 in 2025 and $0.0000000131 in 2026.
Follow Us on Google News
#Babydoge #token #tops #1.7m #holders