Ankr, a leading provider of blockchain infrastructure and solutions, has seen a massive surge in price after announcing a new partnership with tech giant Microsoft. 
Ankr's partnership with Microsoft raises price
On Feb. 21, Ankr's token rose by an impressive 70%, indicating strong investor confidence in the company's future growth prospects. Ankr Network (ANKR) currently trades at $0.052071565492, with a 24-hour trading volume of $657,153,366. 
The values marks a significant 52.10% increase in price over the past 24 hours and an impressive 85.70% increase over the past 7 days. The market capitalization of Ankr Network, which has a circulating supply of 8.2 billion ANKR tokens, is now valued at $417,035,247.
Ankr and Microsoft's strategic collaboration will see the former provide its innovative blockchain technology to Microsoft's Azure cloud platform. Ankr's cutting-edge solutions will enable Azure customers to easily and efficiently deploy decentralized applications and services, leveraging the power and security of blockchain technology.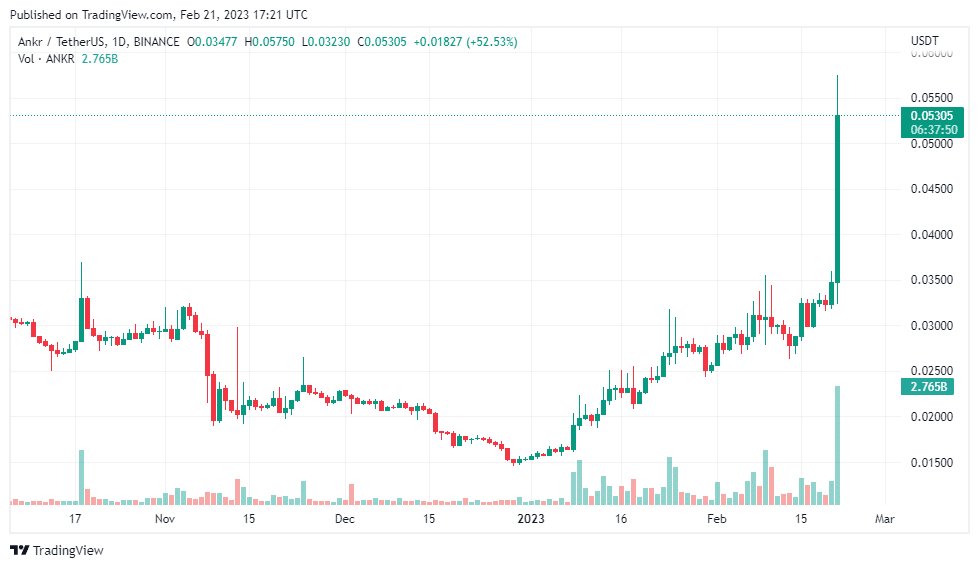 Ankr, under the partnership, could steadily gain momentum in the blockchain industry. The collaboration with Microsoft is a major endorsement of the company's technology and a testament to its strong market position.
As blockchain technology continues to gain traction in various industries, Ankr is well-positioned to capitalize on the growing demand for decentralized solutions.
Ankr, Microsoft partnership to provide blockchain solutions to Azure customers
The market response to the partnership has been overwhelmingly positive, with Ankr's tokens surging in value. It indicates that investors are bullish on the company's long-term prospects and ability to deliver value to customers in a rapidly evolving industry.
"We are excited to work with Microsoft to bring our innovative blockchain solutions to Azure customers. This collaboration will enable businesses of all sizes to leverage the power of blockchain technology and unlock new opportunities for growth and innovation."

Ankr's CEO, Chandler Song
The latest development is yet another example of the transformative power of blockchain technology and its potential to revolutionize various industries.
Follow Us on Google News

#Ankr #token #ramps #Microsoft #deal